Te Wānanga o Aotearoa Kairuruku and Pouwhenua Whakairo (master carver), Professor Kereti G. Rautangata, (nō Ngāti Mahanga, Ngāti Koroki Kahukura) and his team of carvers have left their mark on a significant piece of the Waikato landscape.
A newly carved tomokanga (entranceway) was unveiled last week, as part of a $15 million Hamilton Airport terminal refresh and Kereti says it was a tight finish to complete the mahi.
He was approached, last year and again earlier this year, by artist and cultural liaison Eugene Kara – a former Te Wānanga o Aotearoa toi kaiako – and initially declined.
"Eugene approached me a third time, eight weeks ago, with a mandate from the iwi and mana whenua, to be part of the upgrade and I was still hesitant, because of my current workload which is due by Christmas. I sought the blessing of my team lead first, and then my colleagues, who suggested I do what I encourage others to do: 'do what makes your heart sing', so I was in. Whakairo and design has always been my passion so I took annual leave and got myself organised."
With just a few weeks to work with, Kereti hand-picked a team of five of his former carvers, to help him undertake the job. He had his initial designs digitised by fellow artist and engineer Greg Te Kanawa, (nō Ngāti Maniapoto), who also crafted the stainless-steel aspects of the design. With such a tight deadline, using technology to speed up the process was imperative, he says.
His team had a strong Te Wānanga o Aotearoa influence, with former head office kaimahi, Pakewa Watene (nō Ngāti Mahanga, Ngai Tūhoe), who now co-leads Tai Wānanga; former Apakura operations manager, Tihoi Taylor, (nō Ngāti Haua, Ngāti Tara); as well as former whakairo kaiako and Maunga Kura Toi graduate, Pahi O'Carroll, (nō Taranaki); as well as another MKT graduate, Aaron McMahon, (nō Waikato, Ngāti Awa).
Also assisting with carpentry and production was carpenter, cabinet-maker and former carver, Rob Weir (nō Taranaki).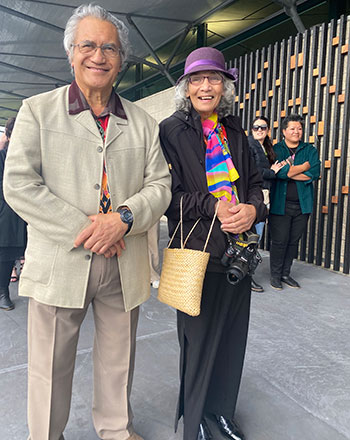 "This team was selected due to their skills and I knew I could trust them to do what was needed," he says. "With them, along with my backbone, my wife Maria, (nō Ngāti Mahanga-Hourua) and our son Te Tūāio, I knew we would achieve the whirl-wind task on time."
Kereti says the design refers to not only travel and flight, but also to the avian wildlife, the surrounding environment and the rich culture of Waikato, where the Kingitanga is central.
"It includes the pūrākau of Tongariro and Taupiri and their relationship with the Waikato River. It also has a kaupapa which is based, not only on the journey one embarks on with Air New Zealand, but also on one's internal journey, to higher dimensions in terms of transformation. The theme itself, of "Rere Rangi ki te Ao"- leaping point to the world (or realms) he says, engenders other simultaneous layers of interpretation as a carver/designer, for others to contemplate".
"One of the other central design features requested in the brief, was the Pekapeka tou roa, the long-tailed bat, which is endemic to the airport area. The bat theme is prominent in the artistic design along with other key manu that are featured in the decal work that graces the sliding doors."
"The designs were pre-cut using a water jet cutter and then hand finished, by each of the five carvers in their respective studios; and then their completed jobs all came together for us to assemble in one place".
"I'm rapt, very happy with how all the elements came together from five different workshops, it was intense but a really rewarding experience. There were quite a few different design components to unify and we took it right to the line".
"Four to five weeks in the planning and preparation, three weeks in the execution. The chips and dust were flying literally. But the result was worth every minute of lost sleep."